Makeup Artist in Orange Company, CA
As a bride-to-be, you want your big day to be perfect and most of all, you want to feel confident and beautiful. However, you may not be sure what looks good on you or how to pull it off yourself for this special occasion.
How do you know what style will work best for your complexion? What colors compliment your eyes? How can you achieve that special hair color without damaging it or looking like an 80's rocker? And what hairstyle can help flatter your face shape and makeup?
We're specialists in bridal beauty and offer everything from one-on-one consultations with our team of professional artists to full-service packages. This includes wedding hair and makeup applications and touch-ups for the entire bridal party. Our goal is to make sure you as a bride feel beautiful on your wedding day!
You will feel confident and amazing after a makeover from our wedding makeup artist. We can offer ideas on what colors work best for your complexion, eye look, hair color styles to compliment what you have going on with your makeup, as well as hairstyles that will flatter you.
Be ready to get the best look for your wedding day. Our experienced bridal hairstyling artists will bring out your beauty. We will use styles that are not only beautiful but also comfortable to wear all day long. We have a large selection of updos, curls, tresses, braids & more. Don't forget about your bridesmaids – we do them upright too!
Don't let this moment slip away, consider hiring us as your makeup and hair stylists for your big event. We certainly won't want you to pass us by without knowing what a difference we can make in how you look and feel on such an important day.
Call now at 949-997-0332 to schedule an appointment.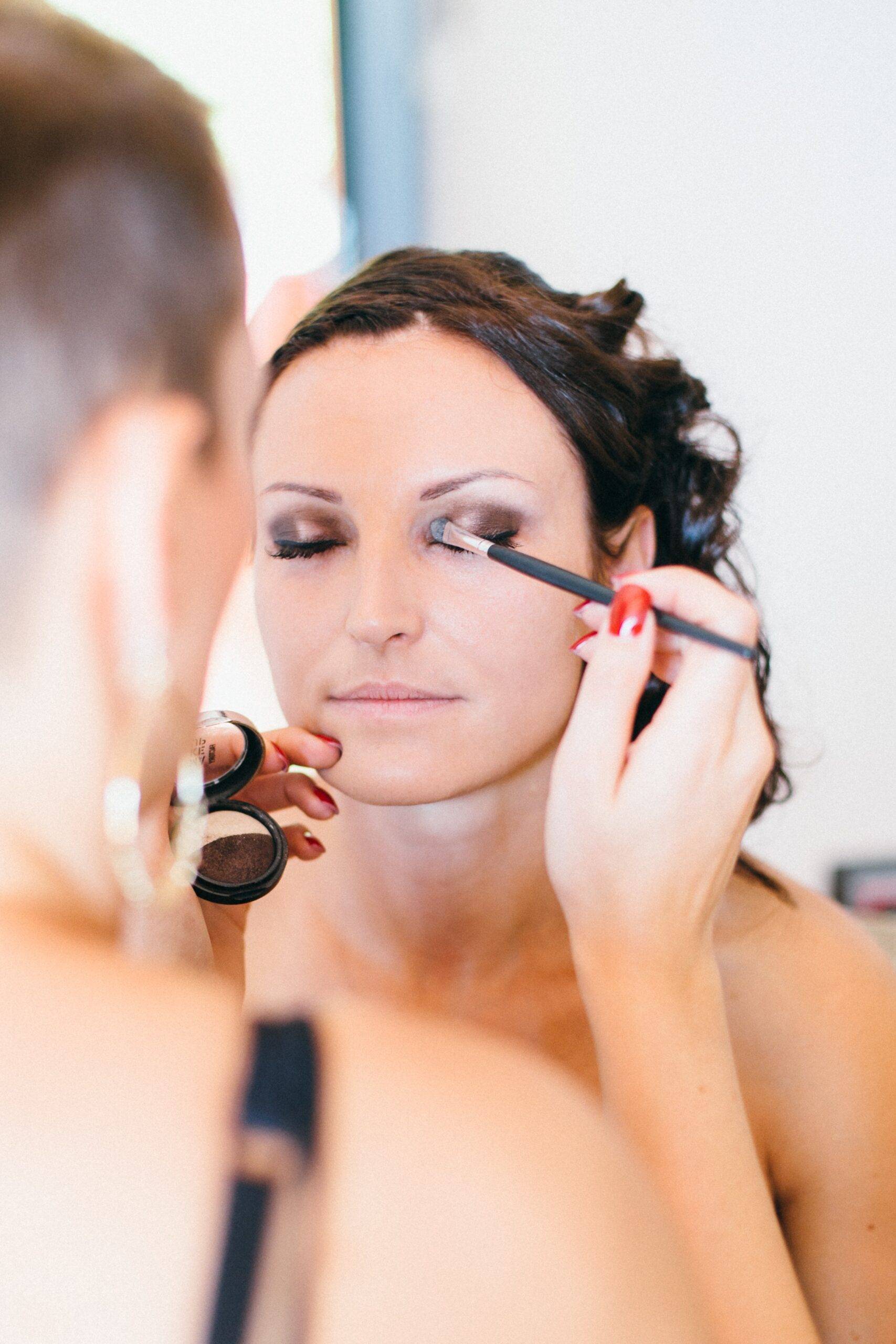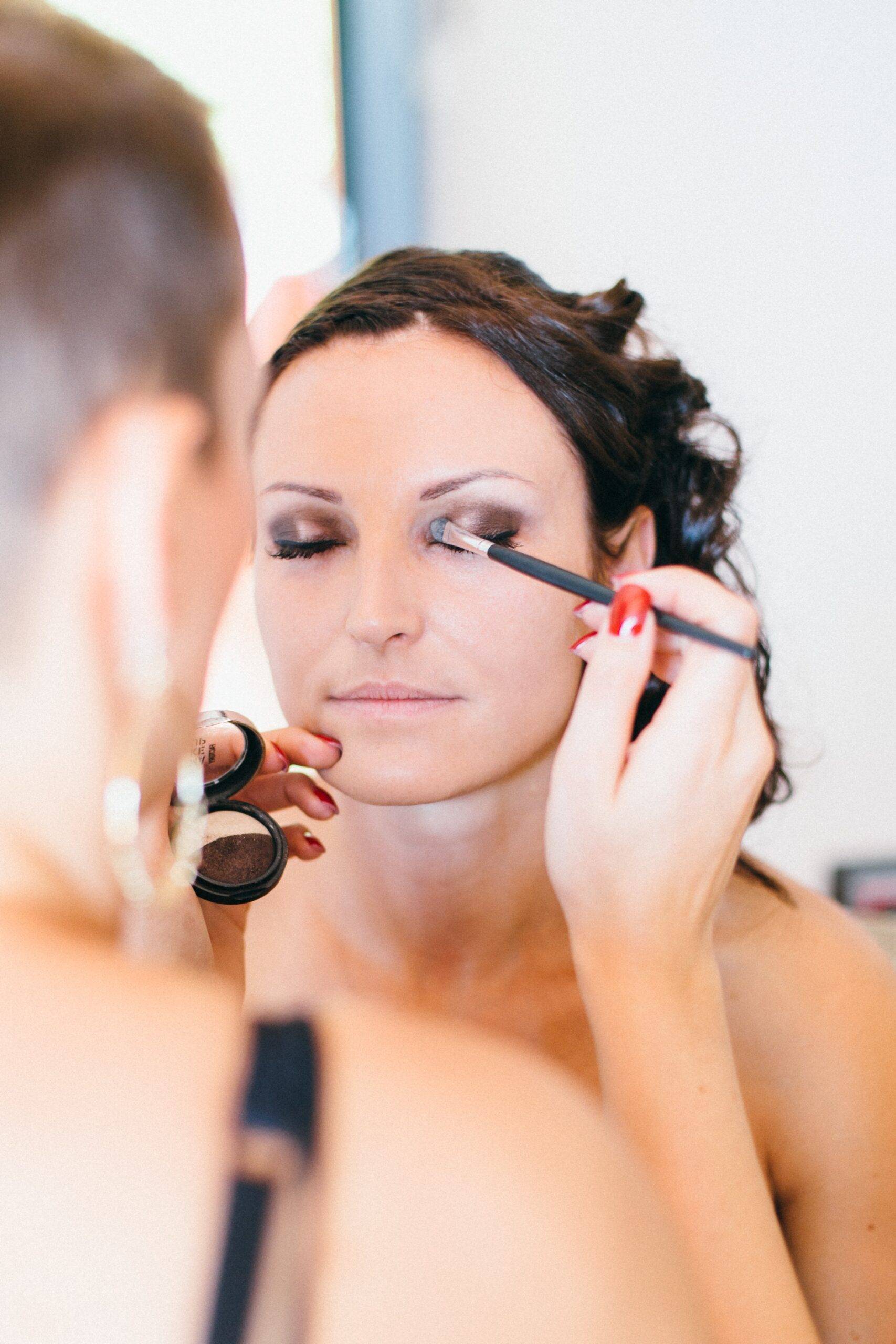 "Enjoy the happiest moment of your life feeling the best version of yourself with the help of our team!"
Professional Makeup Artist
Can we help you conquer your beauty fears and be the best-looking you can be?
We make it easy for every woman to look like a queen with makeup from our professional artist. Whether you need wedding makeup or just need a fresher face during mid-day with the "I don't feel my best moments" mood, we can help you out. Our professionals commit to listening and honoring each individual's needs.
We are experts when it comes time to make up. Yet, not only do we focus on getting you ready but also consider different skin types and skin sensitivity in mind too.
There are so many things needed to make sure your special day is remarkable. Professional makeup would be another one of them. We dedicate our work to providing the best service for every woman who is getting ready for an important day in her life. Trust our experience to make you look stunning and the best version of yourself.
Bridal hair and makeup can be overwhelming. Doing it on your own is even worse. You're only getting married once, and what better way to celebrate your big day than with some stylish hair and makeup by an expert in the field. Make your wedding day the best without stressing about getting beautified.
We offer makeup services for brides, mothers of the bride or groom, grandmothers of the bride or groom, etc. We also do wedding hairstyles like updos and braids. Our beauticians are professional artists with years of training in make-up application. They will match your makeup to your skin tone perfectly while still highlighting that natural beauty you already have. They can also coordinate hair color for stunning multicolored looks if desired. With our skill set, we're able to provide anything from a complete ensemble to adding finishing touches. The wedding hair and makeup cost for our services are so competitive that you wouldn't need to think twice.
Looking for a new hairstyle for your wedding? A good bridal hairstylist is an important part of any wedding party. It's important to feel beautiful and confident on your special day. Don't worry about finding a professional bridal hairstylist – we can help. Our team of experienced and talented artists will create styles that look great and last all day long. We have worked with many brides who were looking for updos, down do's, half up half down hairstyles, ponytails, and more. Don't forget to take care of your girls either! From the flower girl to the maid of honor, there is no limit to what we can offer on such an important day.
Weddings are full of ups and downs so you want things to go as smoothly as possible. One aspect that should be secure is what makeup you wear. For your wedding day, you want the best makeup artistry possible because not only do you want to look beautiful but also be comfortable wearing it all day long. You can go with a more natural look or something bolder if you feel like it. However, whatever look you choose should still work for you because even though wedding days are exciting and fun, they're tiring too! Confused about what kind of looks would go well together?
Call us now at 949-997-0332 to schedule an appointment that works for your big day!
"You deserve to feel your best. Let's make it happen together!"
Why Hire Us?
We have been in the business of bringing the best in each bride on their big day for many years. As experts in the field, we know how to make you feel beautiful and confident on your special day. We'll pick designs and styles that look fantastic and hold up all day long, thanks to our team of professional and experienced creators. We can provide anything from a complete makeover to last-minute touches. This is why we're the first makeup artist and hairstylists that you should call for your wedding party.
Hiring us ensures:
A stress-free process
Fully customized services with regards to what's needed during the big day including but not limited to supplies such as eyelashes
Competitive prices due to experience and strong communication skills with customers so transactions are easy and simple.
We will ensure you look your best during your wedding. We have a wide variety of makeup services available for this special day. Our artists are highly trained and experienced in hair and makeup so you know you will look perfect. We will help coordinate the hair and styling as well as offer suggestions if desired.
For any Makeup Artist inquiries please call our number at 949-997-0332.
Frequently Asked Questions
How do I choose a bridal makeup artist?
Choosing a professional makeup artist for wedding should be simple, right? Well, maybe not. The number of choices can be overwhelming and that is why it's important to carefully consider what you are looking for in the service. What are your needs? Will you need an assistant on the day of the event? How long has the artist been in business? Do other brides recommend them or were there any complaints? These are some things to ask yourself before hiring a professional.
We take pride in being dependable and efficient so rest assured we will make sure everything goes smoothly on your wedding day. Also, we're confident in our work and we will not let you down. We only hire experienced and dependable artists for our team, so we can guarantee a job well done.
When should you contact hair and makeup for a wedding?
You should start contacting hair and makeup artists for wedding 8 months before the big day. This is a safe time frame to reach out when booking dates are a plenty. Also, this is to make sure that you have a reserve slot, you for sure don't want to end up not having a professional for your hair and makeup. Having enough time will also give room for trial make-up and arrange some changes when needed.
Is a wedding makeup trial necessary?
Yes, it is. Expectations can vary from person to person and our main goal is for you to be extremely satisfied with the work we do. To achieve this, we offer the option of doing a trial makeup look so that you can see what your options are before making your choice. This ensures satisfaction and happiness on the big day. Along with this, having services performed by an experienced professional will ensure perfect results. Touch-ups won't be necessary until after several hours have passed depending on how rough your party is. We believe in our techniques and would want nothing less than excellence on your special day which is why we're able to guarantee good results every time.
How long before the ceremony should the bride be ready?
The bride should be ready at least 2 hours before the ceremony, especially if there are other people involved in the service such as wedding parties or bridesmaids. Remember that there might be photo sessions needed, so being ready at least 2 hours will give you enough time for a few clicks.
Is it possible for hair and makeup to last all day?
Unfortunately, having hair and make-up last for days isn't always feasible. We know that life happens on your special day but that doesn't mean you can't still look great regardless of what happens. While we do our best to make sure everything stays just as it was when first applied, we cannot control situations such as humidity or sweat so we recommend touch-ups after a few hours have passed depending on how often spills occur.